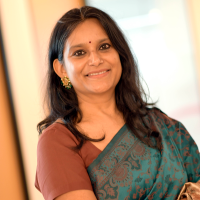 Abanti Sankaranarayanan
Chief Group Public Affairs Officer & Member of the Group Executive Board, Mahindra Group (India)
Abanti Sankaranarayanan is Chief Group Public Affairs Officer and a Member of the Group Executive Board of the Mahindra Group, one of the world's largest multinational federation of companies with a turnover of more than US$19B, 260,000 employees, and manufacturing and R&D facilities in more than 100 countries. Mahindra is India's leading SUV manufacturer and the world's largest tractor company by volume and enjoys a leadership position in information technology and financial services in India. It has a strong presence in renewable energy, agriculture, logistics, hospitality, and real estate.
Prior to joining Mahindra, Abanti was Head of the Strategy and Corporate Affairs function at Diageo India and a member of its Executive Committee. Her responsibilities included Alcohol Policy, Regulatory & Trade matters, Market Access, Corporate Communications & Reputation, and programs to address alcohol misuse, champion responsible consumption, and deliver Social Impact. As head of Strategy, she led the strategy development and execution for Diageo's business in India. Prior to this, Abanti was Managing Director, Diageo India Pvt Ltd, leading Diageo's business mandate for international spirits in India. Abanti joined Diageo in June 2010 as the Marketing and Innovation Director responsible for building Diageo's iconic global brands like Johnnie Walker, Smirnoff, VAT 69, and Cîroc. Prior to Diageo, Abanti served as a member of the Tata Administrative Service (TAS) cadre since 1992 and held key roles managing some of the best-known consumer brands of the Tata Group in India, United Kingdom, and the United States. In her 17-year career with the Tata group, Abanti worked across various companies, such as Tata Global Beverages, London, the Taj Group of Hotels in Mumbai and New York, and Tata Housing and Tata Finance in Mumbai.
Abanti's contributions to business have been recognized by Fortune India (The Most Powerful Women in Business; 2012, 2014, 2015 and 2016), IMPACT (50 Most Influential Women in Media, Marketing and Advertising; 2014, 2015, 2016 and 2017), India Today (India's 25 Most Influential Women, 2013) and Fast Company, New York (100 Most Creative People in Business, 2012). Abanti is an Economics Graduate from St. Stephen's College, Delhi, and an MBA from the Indian Institute of Management (IIM), Ahmedabad.