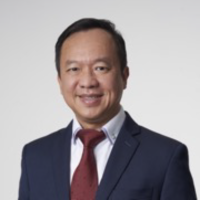 Cong Phan
Chairman, Unibrands (Vietnam)
Dr. Cong Phan is a Canadian serial entrepreneur with businesses throughout Southeast Asia. He is the Chairman of UniBrands – a group of leading private companies in natural personal care, biological nanotechnology, and technological distribution systems in Vietnam. Cong has served as a board member of several reputable companies such as Mobile World (electronic retail), PNJ (jewelry retail), Traphaco (herbal pharmaceutical), Saigon Food, Mekong Capital (private equity), Wakamono (biotech), One Solution Technology, and An Cuong Furniture.  

Cong spent 10 years working for Nestle, SmithKline Beecham, and Electrolux as a Sales and Marketing Director before founding his own company, International Consumer Products (ICP), in 2002. Four years later, by 2006, Cong had transformed this small startup into the leading local personal care company in Vietnam.

Cong and his family currently reside in Toronto, Canada.  He has received national medals such as "For Younger Generations" and "For Sports Development," and business awards such as Ernst &Young's "Entrepreneur of The Year" in 2014 for Vietnam. Cong is currently a member of YPO (Young Presidents Organization), CEO (Chief Executive Organization), and is an Eisenhower fellow.