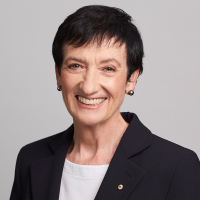 Jennifer Westacott AO
Chief Executive Officer, Business Council of Australia (Australia)
The Business Council of Australia is the nation's premier business organisation, advocating for a stronger and fairer society through a more prosperous Australia. Jennifer Westacott AO has served as Chief Executive of the Business Council of Australia since 2011, bringing a unique combination of extensive policy experience in both the public and private sectors.
Under her leadership, the Business Council tirelessly champions meaningful policies that strengthen the ability of businesses to grow the economy for the benefit of all Australians.
Jennifer built her career in the public sector, working in senior leadership positions in the NSW and Victorian governments. She has served as the Director General of the NSW Department of Infrastructure, Planning and Natural Resources; the Secretary of the Victorian Department of Education and Training; and the Director of Housing in Victoria.
She was also the Deputy Director General of the NSW Department of Community Services, and the Deputy Director General of the NSW Department of Housing. As a senior partner at KPMG, Jennifer advised major corporations on climate change and sustainability and advised governments across Australia on significant reform priorities. She has an unrivalled understanding of how the public and private sectors intersect and can work together to achieve the best outcomes in the national interest.
Since 2013, Jennifer has served as a Non-Executive Director of Wesfarmers Limited.
She is the Chair of the Western Parkland City Authority (previously known as the Western City & Aerotropolis Authority), which is overseeing the design and delivery of the Western Sydney Aerotropolis, as well as integrated delivery across the Western Parkland City, a region comprising 38 per cent of Greater Sydney's area.
Jennifer is an Adjunct Professor at the City Futures Research Centre of the University of NSW and also serves as a member of the UNSW Council. She is the inaugural Chair of the Board of Studio Schools of Australia, a patron of Mental Health Australia, the Co-Patron of Pride in Diversity, and a patron of the Pinnacle Foundation.
In 2018, Jennifer was made an Officer (AO) in the General Division of the Order of Australia.
She has a Bachelor of Arts (Honours) from the University of New South Wales and in 2017 received an Honorary Degree (Doctor of Letters) from her alma mater. She was a Chevening Scholar at the London School of Economics.