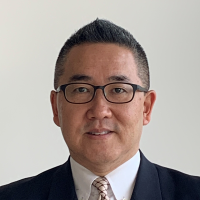 Kaori (Mick) Namiki
President and Chief Executive Officer, Mitsubishi Canada Ltd. (Japan)
Kaori (Mick) Namiki is the President and Chief Executive Officer of Mitsubishi Canada Ltd., a Canadian operation of Mitsubishi Corporation, Japan's largest integrated business enterprise. Mitsubishi Corporation operates businesses together with over 200 bases of operations in approximately 90 countries worldwide, as well as a global network of around 1,700 group companies.
Under Mick's leadership, Mitsubishi's Canadian operation continues to develop and promote traditional and new businesses for Canada and Japan, focusing on the areas such as Energy/Natural Resources (LNG, Hydrogen/Ammonia/CCS and Iron Ore, etc.) and innovation (cultivation of startsups and new technologies).
Mick graduated from Waseda University in Tokyo with a Bachelor of Economics in 1991, and started his career at Mitsubishi Corporation. He has been engaged in trading and investment mainly in the mineral resources sector during his career of over 30 years and stationed in Shanghai (China) from 1999 to 2006, and Jakarta (Indonesia) from 2017 to 2020, in addition to Tokyo and Nagoya (Japan), before arriving in Canada in June 2020.
Mick speaks Japanese and English, and conversational Chinese (Mandarin) and Bahasa Indonesia. He currently serves on the Boards of Directors of Japanese Business Association of Vancouver (Konwakai) and Nikkei National Museum & Cultural Centre, and lives in Vancouver with his wife.