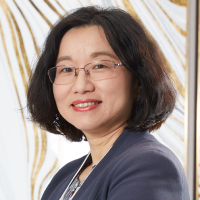 Lan Kang
Head of Portfolio Management, Managing Director, CBC Group (China)
Lan Kang is a well-rounded business leader with global and cross-sector experiences. She is currently Head of Portfolio Management, Managing Director, CBC Group – one of Asia's largest and most active healthcare-dedicated private equity funds. At her position as Executive Board Director and Senior Vice-president of Fosun International, Chairperson and President of Fosun Insurance Business, Lan led the development and implementation of strategy, mergers and acquisitions, as well as post-investment management of eight insurance companies globally. When Lan joined Fosun in 2010, she first served as Chief Human Resources Officer, responsible for HR strategy development, HR policy and process improvement, as well as performance management and incentive scheme development in the company. She was instrumental in helping Fosun expand globally and driving the "glocal" talent strategy, focusing on developing the corporate culture of entrepreneurship and partnership.
Prior to joining Fosun, Lan was a Senior Client Partner at Korn/Ferry International (KF). She successfully developed a life sciences practice for KF in mainland China, providing executive search and leadership assessment and HR consulting to both multinational and local Chinese clients. Prior to that, she spent close to five years as a management consultant at McKinsey & Company in China. She also worked as a research scientist in oncology in her early career.
Lan obtained her MBA with honours from The Wharton School of the University of Pennsylvania. She obtained a Bachelor's degree in Biological Science and Technology from Zhejiang University in China, and a Master's degree in Chemistry from Tulane University, Louisiana.