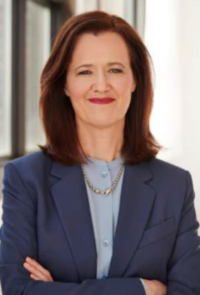 Julie Pottier
Senior Vice-President Small Business, Partnerships and Head of Insurance, Export Development Canada
Senior Vice-President Small Business, Partnership and Head of Insurance, Julie Pottier's mandate is at the core of how EDC serves Canadian companies as they grow their businesses internationally.
Ms. Pottier oversees teams that deliver a wide range of services for every segment of EDC's customer portfolio, from small businesses only beginning their exporting journey, to those larger and established exporters seeking to take their next step toward international growth. Her responsibilities include small business sales, the insurance underwriting teams and working capital solutions, customer care, banking channels and strategic alliances.
In addition to serving EDC's mandate to grow Canadian exports, these teams have played a vital role in supporting our customers and partners throughout the COVID-19 pandemic and continue to provide many critical services as Canada builds back toward economic recovery.
Since joining EDC in 1992, Ms. Pottier has held a variety of leadership positions, and played a key role in a major system transformation within the organization. In addition to leading EDC's national business development team, she has also served as Regional Underwriting Director, leading teams responsible for providing insurance, bonding and financing solutions to Quebec customers, and has led teams been a leader player in negotiating a number of EDC's major strategic alliances.