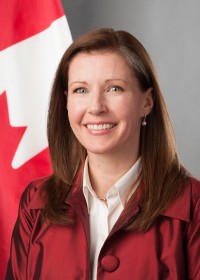 Sara Wilshaw
Assistant Deputy Minister & Chief Trade Commissioner, Global Affairs Canada
A senior government executive of 26 years, Sara Wilshaw is Canada's Chief Trade Commissioner and Assistant Deputy Minister at Global Affairs Canada (GAC). She leads a global team helping Canadian businesses find new customers, troubleshoot market access, sell their products, and grow their business. Sara also leads work across global trade support services including export finance, foreign investment and responsible business conduct.  
Previously, Sara served as Director of Operations, Foreign and Defence Policy Secretariat at the Privy Council Office, where she provided strategic analysis and advice to the Prime Minister, the Clerk of the Privy Council, the National Security and Intelligence Advisor, and the Foreign and Defence Policy Advisor on matters concerning Canada-U.S. relations, Latin America, Trade issues, Climate Change, Human Rights and the UN.  
Prior to joining PCO, Sara led GAC's North America Bureau as Director General during the renegotiation of NAFTA.  She was previously appointed to represent Canada as Consul General in Dallas, and as Senior Trade Commissioner in New Delhi, and has extensive experience in trade promotion and negotiations, including at Canada's Permanent Mission to the WTO in Geneva and at the Embassy of Canada in Japan.  
Her experience at GAC includes functional and geographic, as well as foundational, work on Global Commerce Strategy, Corporate Social Responsibility for the Extractive Sector, modernization of the Trade Commissioner Service, trade policy consultations and communications, as well as human resources.