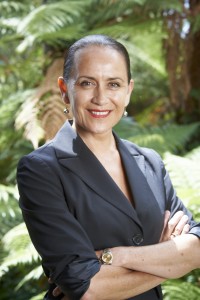 Traci Houpapa, MNZM JP
Chair, Federation of Māori Authorities
Traci is an award-winning company director and a recognized industry leader. She is a trusted advisor to Māori, Government, public and private sector entities on strategic and economic development, and is known for her strong and inclusive leadership and her clear focus on building the wealth and prosperity of Aotearoa New Zealand.  
Traci is a Chartered Fellow of the NZ Institute of Directors, and is recognized as a role model for other directors and business leaders. She has been named as one of the top ten most influential women in NZ agribusiness and the Listener's top ten influencers in NZ.  
Traci won the Westpac Fairfax Media Women of Influence Board and Management award and has been named on Westpac's NZ Women Powerbrokers list. Traci has been awarded the Massey University Distinguished Alumni Service Award for services to New Zealand agribusiness and Māori, and named amongst the BBCs 100 Most Influential Women in the World. Traci has an MBA from Massey University and is a Member of the New Zealand Order of Merit, a Justice of the Peace and a Marriage Celebrant. 
Traci serves as: 
FOMA 'Federation of Māori Authorities', Chairman
W3 Wool Unleashed Primary Growth Partnership, Chairman
National Advisory Council on the Employment of Women, Chairman
Hineuru Holdings Limited, Chairman
Te Arawa Group Holdings Limited, Chairman
Australia New Zealand Leaders Forum Indigenous Business Sector Group, NZ Co-Chairman
Chiefs Rugby Club Limited, Director
Ontario Teachers' Pension Plan NZ Forests Investment Limited, Director
New Zealand Trade and Enterprise, Director
Stuff Limited, Advisory Board member
NZ Public Service Commission, Māori Advisory Group
Predator Free 2050 Limited, Director
Massey University, Council member
National Science Challenge Science for Technology and Innovation, Board member
NZ Police, Risk and Audit Committee, member 
She holds the following honorary roles: 
Mystery Creek Fieldays, Honorary Vice President
Leadership New Zealand, Ambassador 
And is a member of:  
Global Women New Zealand
SuperDiversity Institute
Rural Women New Zealand
CSC Global Alumni Fellow
Māori Women's Welfare League
NZ Institute of Directors