Synopsis
Small Talk (日常生活) is a profoundly raw and intimate portrayal of director Huang Hui-chen's journey to unravel the enigmatic persona of her emotionally distant mother, A-nu, a lesbian Taoist priestess in rural Taiwan. Living under one roof but barely communicating for decades, Hui-chen and A-nu are essentially strangers. Compelled to break the silence after becoming a mother herself, Hui-chen picks up a camera, and what unfolds is an unflinching interrogation of the complex dynamics of their estranged relationship inflicted by Taiwan's traditional patriarchal order.  
---
The Violence of Social Patriarchy and Silent Complicity
Through a series of intimate yet often confrontational conversations between Hui-chen and Ah-nu, as well as Hui-chen's exchanges with A-nu's relatives and ex-lovers, A-nu's reluctant revelations about her past slowly emerge. Set in domestic spaces, Small Talk raises profound questions about Taiwan's older generation of LGBTQ+ individuals and the incalculable costs of surviving in a heteronormative and patriarchal society.  
Even though she felt same-sex attraction from a young age, A-nu endured an abusive arranged marriage to a violent and gambling-addicted man, which she escaped years later with her two young daughters. However, to embrace her lesbian identity, albeit while concealing it from others, she frequently left her children at home alone while she engaged in rendezvous with her girlfriend. These experiences made Hui-chen grow up questioning whether her mother loved her, leaving her with feelings of abandonment and estrangement.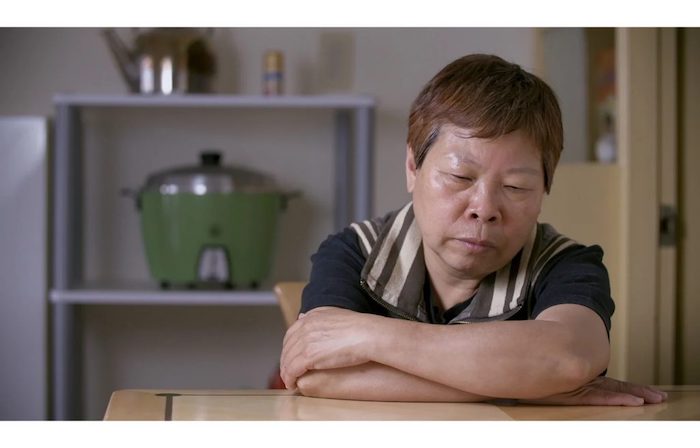 The lingering impact of their strained relationship is evident in A-nu's reluctance to make eye contact during filming, her failure to acknowledge her daughter and granddaughter when she returns home, and the disconcerting silences that punctuate their conversations. These manifestations of silence and emotional disconnect are ingrained in traditional Chinese families and the perceived need to maintain a facade of propriety and repression of one's true self.
The silence is particularly astounding when it comes to conversations about sexuality. When asked about A-nu's sexuality, her siblings deny any awareness but react without surprise, indicating a kind of silent complicity. A more unsettling revelation comes when Hui-chen discloses to Ah-nu that her father sexually abused her as a child. In response, A-nu hesitantly but insouciantly denies any knowledge of it, offering no consolation to her tearful daughter.
Enclave of Freedom and New Hope
Interviews with Ah-nu's past lovers offer a brief glimpse of expressive happiness outside the island's suffocating patriarchal norms. In her relationships with women, Ah-nu finds a sense of liberation and power otherwise denied to her as a lesbian. She pursued partners resourcefully, charming them with sweet words, surprising them with gifts and bold promises, and gaining many admirers who couldn't help but giggle when reminiscing about their past romance. This sharp contrast to her reserved demeanour with family highlights how patriarchal constraints and sexual norms segmented A-nu's identity, allowing her to embrace her sexuality and personality only outside the "home."
Nevertheless, Small Talk also presents a ray of hope. The film suggests that social change brought about by decades of LGBTQ+ movements in Taiwan has the potential to foster greater freedom and acceptance. Huang's eldest niece, who explicitly supports same-sex marriage, represents a new generation that is more open-minded and embraces diverse identities.
Through its delivery of candid interpersonal drama unfolding in an atmosphere of conflicting emotions, Small Talk invites reflections on buried traumas across generations within cultural systems predicated on silence rather than openness. Most powerfully, the film depicts reconciliation as an ongoing process that demands courage to confront painful histories and rebuild fractured bonds.
About the Vancouver Taiwanese Film Festival
The Vancouver Taiwanese Film Festival (TWFF) is an annual non-profit art and culture initiative started in 2007. It has been well-received by Metro Vancouver audiences over the years and has become the largest film festival focusing on Taiwanese cinema in North America.
Over the past 16 years, TWFF has presented more than 100 Taiwanese films and invited many filmmakers and directors to Vancouver, supporting multiculturalism in Canada and building a bridge connecting the art of Taiwanese film with Canadian audiences.
APF Canada was provided complimentary review tickets for TWFF in support of the Foundation's mission to promote mutual awareness and understanding of Asian cultures.