In late January, Canadian entrepreneur Natalia Mykhaylova boarded a plane bound for Seoul to scale her company, WeavAir, in South Korea. At the time, cases of a then-unnamed novel coronavirus were beginning to surge in Asia, and its effects on global health and the economy were just starting to be realized. Mykhaylova was selected as a delegate of the First Canadian Women-Only Business Mission to South Korea in February 2020, led by the Asia Pacific Foundation of Canada, to diversify export markets for Canadian women in technology. Although the mission was postponed due to COVID-19, Mykhaylova was eager to expand WeavAir in Asia and travelled to South Korea ahead of the planned business mission before Canada and South Korea imposed travel restrictions. Five months later, her pluck has paid off. Despite the global economic slow down resulting from the virus, WeavAir has won international competitions with its sensor technology and signed a bilateral deal with a South Korean software company.
WeavAir's solution to indoor air pollution
WeavAir's award-winning sensor technology solves a real-world problem in the HVAC industry by connecting air monitoring and filtration systems with the Internet of Things (IoT). A sensor the size of a mobile phone attaches to ventilation systems, collecting data to improve filtration efficiency. The sensor monitors and warns building managers of inbound chemicals and pollutants affecting indoor air quality, and applies algorithms to detect technical problems affecting the HVAC system.
One month after Mykhaylova landed in South Korea, WeavAir's hardware won the Best of Innovation Award at the Seoul Global Challenge, an international research and development competition for corporations, universities, and research institutes. The competition seeks out original technologies to solve Seoul's urban problems and enhance the lives of South Koreans.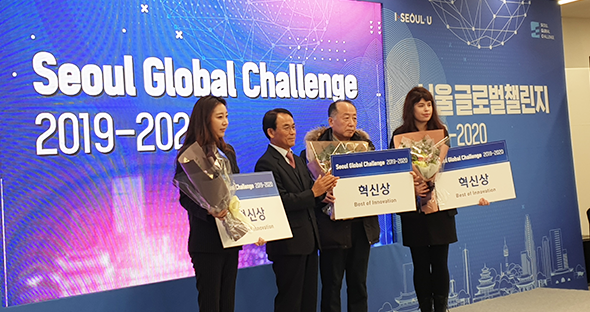 Canadian entrepreneur Natalia Mykhaylova (R) was awarded Best of Innovation Award at this year's Seoul Global Challenge | Photo: Natalia Mykhaylova
 This year's Seoul Global Challenge called for proposals to reduce fine dust levels in the Seoul subway, a top priority for the city. Not yet a widespread concern in Canada, fine dust levels in subway systems is a major respiratory health hazard – another reason many people in Asian urban centres wear masks, on top of airborne viruses. As trains travel along metal rails, Mykhaylova explains, metal particles are generated, causing harmful oxidation reactions when they enter the lungs.
Mykhaylova is impressed with South Korea's eagerness to adopt technology to solve its indoor air quality problems. While passengers on the Seoul Metro are partially protected on subway platforms due to the country-wide adoption of Platform Screen Doors, WeavAir's technology has shown that each time train doors open, passengers are still exposed to spikes in air pollutants. Seoul Metro's situation is analogous to the Toronto Transit Commission (TTC), both being enclosed subway systems with similar wheel and rail mechanics. The TTC has been shown to have air contaminants over four times the safe level recommended by the World Health Organization, putting both passengers' and transit workers' health at risk.
The Seoul Global Challenge was broken down into three sub-competitions: platform, train, and tunnel exposure. Each technology was installed in the high-exposure areas of the subway, rigorously tested over time, and the results presented to Seoul citizens. The competition was a boon for WeavAir's brand exposure and value proposition in the Korean market, Mykhaylova says. Seoul Mayor Park Won-soon praised WeavAir's win as an important first step toward reducing fine dust in the Seoul Metro. Seoul Metro has begun installing WeavAir's hardware in parts of its subway stations and will continue the installations throughout the system for at least a year.
Finding international success – despite the pandemic
On April 16, following the success of the innovation award, WeavAir signed a memorandum of understanding (MoU) with South Korean firm SRPOST to formalize their collaboration on R&D projects. SRPOST manages smart city projects in South Korea, Mykhaylova explains, providing a platform that aggregates citizen data and helps city governments respond to citizen requests. Mykhaylova's research collaboration with SRPOST complements WeavAir's clean-air hardware technologies by utilizing SRPOST's software capabilities to optimize and make WeavAir's clean-air technology more efficient and effective. This collaboration can range from deploying additional sensors to controlling the airflow to collecting airflow data (sensing which pollutants are most present, thus prompting increased filter replacement).
International competitions and formalized R&D relationships boost WeavAir's global expansion. Going into a new market cold can set a company up for failure. Mykhaylova describes such learning experiences in Hong Kong and Taiwan, a few weeks long, as being too brief. Instead, Mykhaylova has now been in South Korea for almost six months to attend conferences, compete in startup competitions, and formalize R&D projects, which have catalyzed tangible returns. Sustained market engagement increases exposure to investors, Mykhaylova says. The Toronto-based entrepreneur has also established relationships with complementary vendors in-market, embedding her company in an ecosystem of tech solutions for South Korean business problems related to indoor air quality. Longer-term engagement also helps WeavAir learn about in-country logistical and regulatory requirements, improving its product for local deployment. In South Korea, Mykhaylova explains, the government already tracks several outdoor metrics, such as air pollution and traffic. Access to local data sets enables her company to combine them and improve their sensor technology's ability to predict indoor air quality that is affected by other environmental changes (outside air quality, commuter traffic, etc.).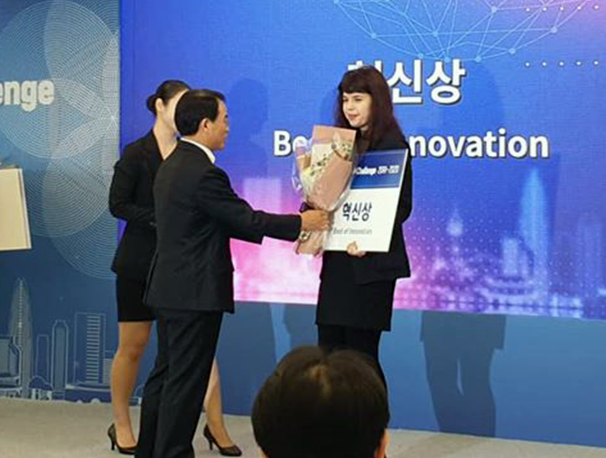 Following a string of successes as a student entrepreneur at the University of Toronto, Mykhaylova launched WeavAir in June of 2018 with an international outlook. In 2017, she was part of Next Canada's Next36 cohort, an annual initiative that helps 36 young Canadian entrepreneurs scale their ventures. The year WeavAir launched Mykhaylova was named the 2018 Student Entrepreneur National Champion by Enactus Canada, Canada's largest student leadership development organization, on the strength of her venture pitch to a panel of business leaders. From there, WeavAir initiated pilot projects in Belgium, China, Taiwan, and the U.S. – internationalization was the goal from the start.
International challenges for women entrepreneurs
Despite recent successes, expanding into South Korea has not been easy, Mykhaylova says. While Korea's focus on new technology to improve governance is impressive, much of the innovation is "centred on conglomerates," she laments. Such 재벌 ('chaebols', or 'family-owned conglomerates') are large industrial companies, often owned by a single family, with diversified affiliates and outsized political and economic influence. The top ten chaebols, for example, control an estimated 27 per cent of South Korea's business assets. Breaking into this industry clique is a huge barrier for small startups because chaebols dominate the market share in Korea and have vertically integrated solutions in the innovation space. Building relationships with key players in this space, she says, is key to success for international companies.
Women in Korea's startup community face additional challenges. With male-dominated hierarchies and a work culture that rewards long hours, women are often excluded from advancement opportunities. For example, Mykhaylova says, employees are expected to stay at least as late as or later than their managers, despite completing their work, which disproportionately disadvantages women. This is a familiar phenomenon in any economy where traditional gender roles related to domestic care duties limit women's economic opportunities. Korea, with its relatively rigid gender roles and traditional family structure, is no exception.
What Mykhaylova did find unique to her experience of Korea's business world, however, was the explicit commentary on her and other women's appearances by older male colleagues. Mykhaylova has had to adapt to these cultural differences. But, she says, things are changing, and often younger men in Korea have more progressive attitudes and behaviours. Mykhaylova believes that perseverance and motivation are key to penetrating the Korean market, and as she has already demonstrated, "a lot of things can be done with the right mindset."
Post-pandemic plans
At a time when particle health hazards are top-of-mind around the globe, WeavAir's sensor technologies are finding even more applications. Mykhaylova reports that the company is now developing its technology's capability to track bacteria and viruses on surfaces – a particularly useful application for returning confidence in citizens to move about in public spaces in a post-COVID19 world.
This is just the beginning of WeavAir's international growth. Mykhaylova's success is a testament to Canadian innovation and Canada's potential gains when it supports home-grown women in technology to scale their businesses overseas.