The 2016 National Opinion Poll commissioned by the Asia Pacific Foundation of Canada and undertaken by EKOS Research Associates examines Canadian attitudes towards Asia and perceptions of Canada-Asia relations.
The 2016 survey provides fresh data on Canadian views on Asia showing an increased belief that Canada is a part of the Asia Pacific region; this awareness translates into increased support for policies that encourage economic engagement with Asian partners.
-- To Immediately Access the Entire Report, Please Scroll to the Bottom of This Page and Click, "Read the full survey" --
For this year's survey, we continued to gauge Canadians' underlying attitudes about issues such as trading with partners perceived to be non-democratic and competing with low-wage countries. We also measured attitudes towards investment from private sources versus investment from state-owned enterprises, and Canadian support for free trade in general. The findings provide a basis for a continued conversation about Canada's role in the Asia Pacific region. Highlights include:
Support for Engagement with Asia is on the Rise
Canadians are feeling more connected to the Asia Pacific region than they were two years ago, with one third (34%) of Canadians identifying Canada as part of the Asia Pacific region, up from just 22 per cent in 2014.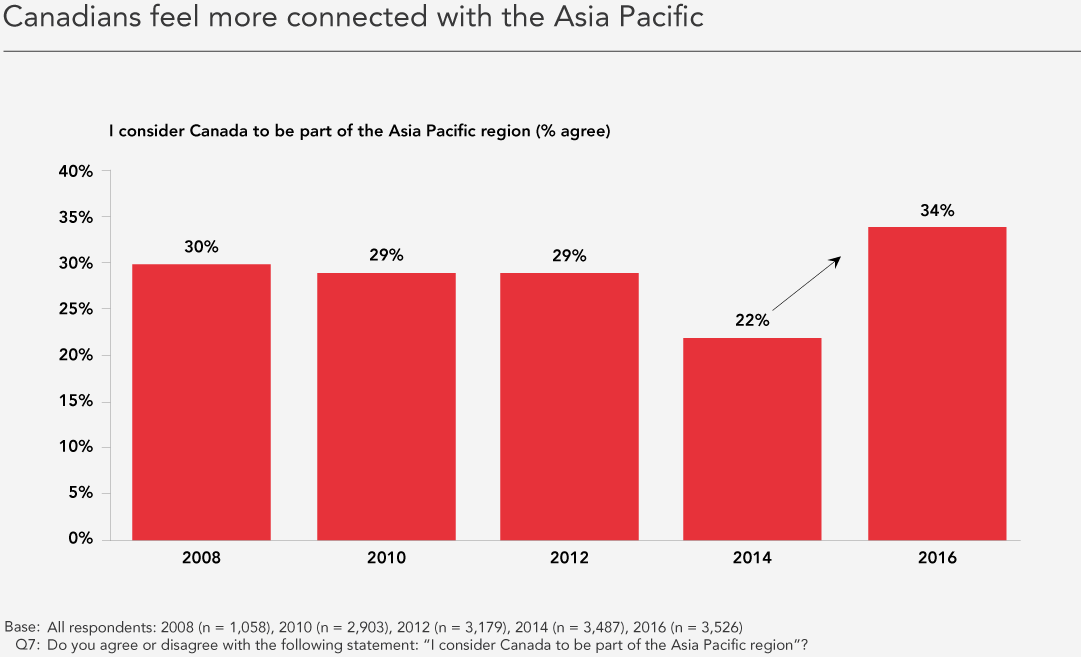 Canadians also view Asia as increasingly important to their economic prosperity. In 2014, for example, only 46 per cent of Canadians said Asia was important to their province's prosperity; in 2016, that number jumped to 60 per cent.
Support for Trade Agreements in Asia Remains High
Almost half (46%) of Canadians support a free trade agreement with China, up from 36 per cent in 2014. Support for an FTA is even higher for Japan (2016: 72%; 2014: 56%), India (2016: 55%; 2014: 38%), and the Association of Southeast Asian Nations (2016: 54%; 2014: 37%).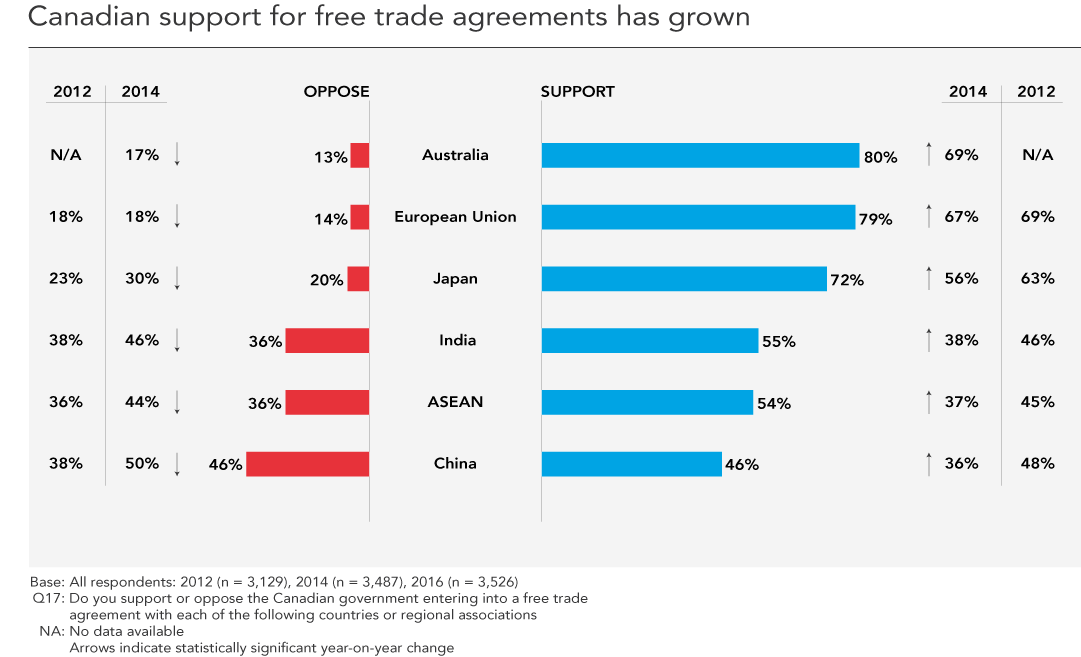 Similarly, three quarters (75%) of all Canadians say they support free trade agreements in general. This is higher than the share of Canadians who supported trade agreements in 2015 (66%) and 2014 (68%).
Educational Collaboration has Strong National Support
Canadians strongly (69%) support efforts by universities in their home provinces to increase exchanges and education ties to Asian schools.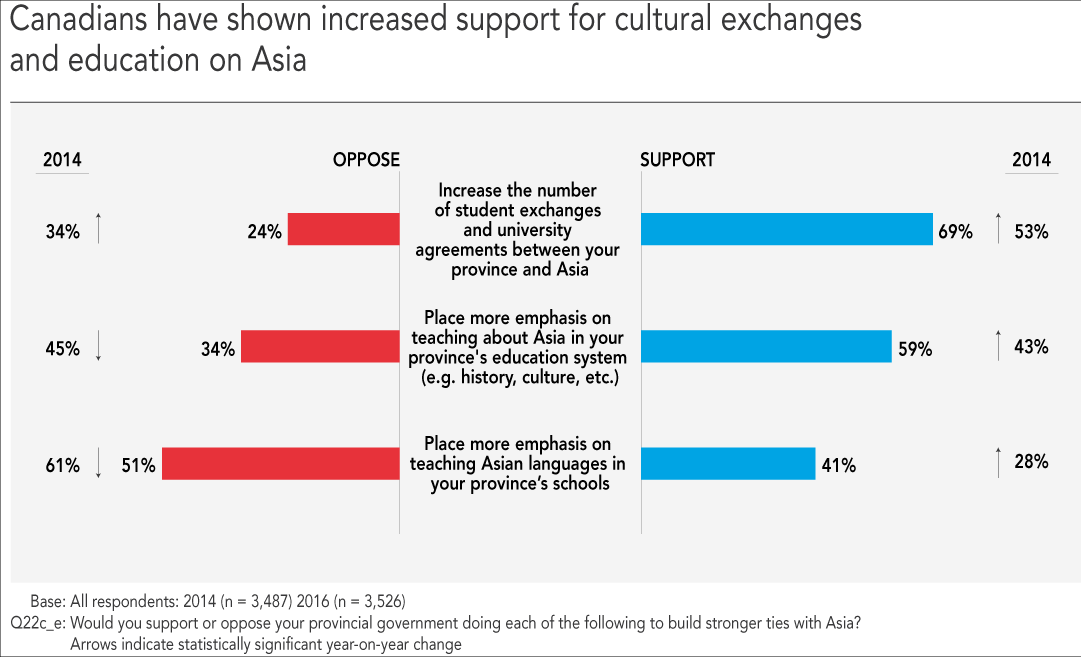 There is also majority support for placing more emphasis on Asia in the classrooms of provincial education systems. Fifty nine per cent of Canadians support increased content focused on Asia, up from 43 per cent in 2014.
Canada's Relationship with China is Complex, Multi-faceted
Canadians' views on China are increasingly optimistic on economic matters. Canadians have warmed on China since 2014, with almost half (49%) agreeing that China's rise is an opportunity more than a threat (43% disagreed), up from 41 per cent in 2014 (when 47% disagreed). 
Twenty per cent of Canadians say they are supportive of Canada having a closer economic relationship with China, while half (50%) say they would be open to persuasion on closer co-operation if they had more information.
Canadians are relatively optimistic about the Canada-China relationship, with approximately one quarter (24%) of Canadians saying the relationship is improving, almost half (46%) saying it is staying the same, and only 16 per cent saying the relationship is worsening.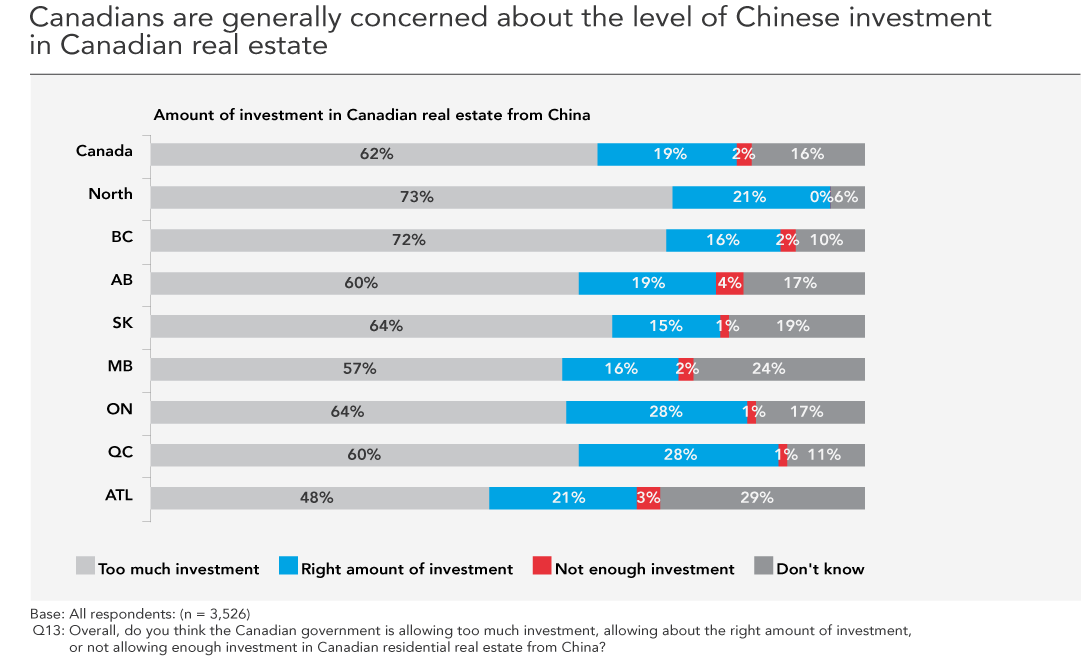 Canadians continue to be apprehensive about the Chinese government's policies at home and abroad. Almost half (46%) of Canadians worry that China's increasing presence in Canada is a threat to the country's values and way of life. And only 35 per cent view the human rights situation in China as having improved over the last 10 years.
Canadians Remain Concerned Over Human Rights and Regional Security Issues
Close to half (48%) of Canadians think that strengthening economic and political relations with Asia should be Canada's top foreign policy priority, up from 37 per cent in 2014.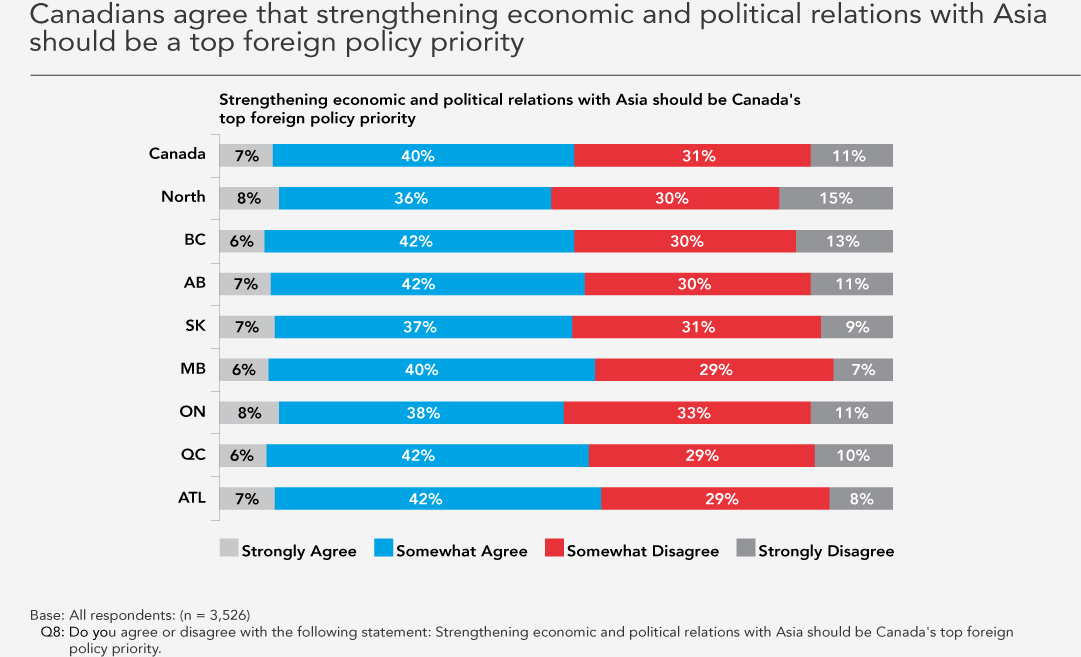 When it comes to human rights, Canadians are broadly supportive of Ottawa incorporating the promotion of human rights into foreign policy. Three quarters (76%) say the government should raise human rights issues, rather than leaving these issues as a local concern for countries to address on their own.
For a French translation of the key findings, please click here. 
To view the full report, please click "Read the full survey" below.