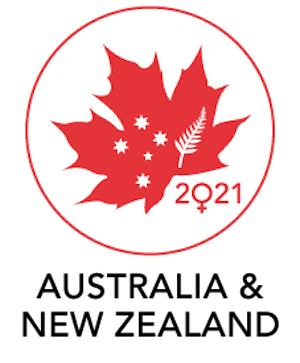 In late fall 2021, the Asia Pacific Foundation of Canada (APF Canada), in partnership with SheEO and with strong support from the private and public sectors, hosted the First Canadian Women-only Virtual Business Mission to Australia and New Zealand. As APF Canada's fourth women's business mission to the Asia Pacific, this mission brought together Canadian women entrepreneurs with businesses from Australia and New Zealand to promote gender inclusive trade, support SMEs, and catalyze international partnerships between Canadian companies and foreign markets. The mission Chair was Lisa De Wilde and the Vice-Chair was Janice Fukakusa. 
In partnership with

Supported by


APF Canadawais proud to partner with SheEO to create trade opportunities for women entrepreneurs on this mission. SheEO is a "global community of radically generous women building a perpetual fund to support women entrepreneurs working on the UN's Sustainable Development Goals." Since launching in Canada in 2015, SheEO has gone global – most recently expanding into Australia and New Zealand. By working closely with SheEO, the mission provided unique insights into how women around the world are creatively collaborating to solve some of the most pressing global issues.  
APF Canada was proud to be supported on this mission by INDIGI-X, an organization that "facilitates the connection of Indigenous Professionals around the world, encouraging collaboration and economic growth." Since 2020, INDIGI-X has offered a "platform for Indigenous Professionals around the world to work together, identify business opportunities and engage in international trade."
Subscribe to Receive Women's Business Mission Updates
Message from the Governor General:
Related Documents:
Mission Brochures:
Mission Details:
WHERE: Australia & New Zealand 
This mission was an online event, with Canadian delegates joining the event virtually.
WHAT: While a virtual model cannot fully replace the value of an in-market mission, this Mission featured similar components, including a virtual conference with high-level speakers from Canada, Australia, and New Zealand, personalized business-to-business (B2B) matchmaking for the official delegates, and networking opportunities for attendees.  
WHEN:December 1 - 2, 2021 (EST - Canada) / December 2 - 3, 2021 (AEDT & NZDT - Australia & New Zealand)
WHO: This mission provided opportunities to women-identifying entrepreneurs (owners or those leading Canadian SMEs) looking to grow their businesses by accessing the Australian and New Zealand markets. Companies in science, technology, engineering, and other sectors that are traditionally under-represented by women were prioritized for the mission.  The Mission especially welcomed applicants from traditionally under-represented groups, such as (but not limited to) members of racialized and Indigenous communities, people with disabilities, LGBTQ2S+ folks, newcomers to Canada, and young entrepreneurs. 
WHY: Canada is privileged to have strong political, cultural, and economic ties with Australia and New Zealand, which rank among the world's top jurisdictions in terms of per capita income and consumption. As members of both the Commonwealth and OECD, Australia, New Zealand, and Canada have enjoyed a long history of friendship and commercial exchange that has helped build a trade profile with both countries now valued at nearly C$5.8 billion.  
Sharing similar approaches to international trade (including as founding members of the Comprehensive and Progressive Agreement for Trans-Pacific Partnership trade pact, CPTPP), defence, multilateral cooperation, and cultural exchange, the relationship among the three countries is only expected to grow stronger as the world continues to become more economically and politically integrated. 
Australia's and New Zealand's dynamic domestic economies are positioned to make large strides when they begin re-opening to international visitors post-pandemic. With major market monitors now projecting growth rates in excess of five per cent for both economies in the coming year, there is ample opportunity for Canadian entrepreneurs looking to grow their business through expansion, partnership, collaboration, or disruption. With the three countries sharing very similar export and production profiles, APF Canada's Women-only Virtual Business Mission to Australia and New Zealand was an opportunity for some of Canada's newest and most innovative companies to strike out and succeed in growing markets based on key insights gained here at home.
OBJECTIVES:
To mutually showcase technology innovations in Canada, Australia, and New Zealand in the areas of infrastructure, smart cities, sustainable solutions, and health technology
To provide networking opportunities for Canadian women in business with counterparts in Australia and New Zealand
To provide an opportunity to share insights and best practices on women's economic advancement
To facilitate business partnerships between Canadian delegates and Australian and New Zealand companies
To highlight international trade opportunities for Indigenous women in Canada, Australia, and New Zealand
For mission inquiries, please contact: 
  
A.W. Lee, PhD 
Senior Program Manager 
Diversity and Inclusive Growth Strategy for 
Women Entrepreneurs in the Asia Pacific 
Asia Pacific Foundation of Canada, Toronto 
205-375 University Ave. 
Toronto, Ontario, Canada M5G 2J5 
a.w.lee@asiapacific.ca  

This mission is supported through contributions from the Government of Canada.

Presenting Industry Sponsor: